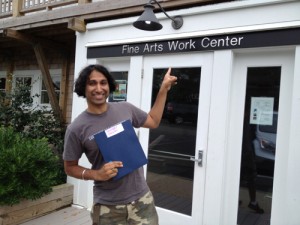 As we drove through Provincetown in Cape Cod to get to the Fine Arts Work Center, where I received a scholarship to attend a playwriting workshop with Melinda Lopez, I was immediately enamoured with the place. It is absolutely beautiful, with quaint, brightly coloured cottages lining the streets, and you can literally smell the seaside as you drive around. We turned down Pearl Street and pulled into our parking spot (#5!), checked into our apartment, and I promptly collapsed onto the bed for about two hours, before Orientation started downstairs. Doing the Cliff Walk and touring mansions in Newport, Rhode Island, as well as stuffing ourselves with clams in butter sauce at Antonio's Restaurant was hard work. There are so many things I love about the apartment, but I'll limit it to three things:
Reading and Writing Spaces: What I really like about the apartment is that there are so many inviting places to engage in the simple act of sitting down. As soon as you enter the apartment, there's an incredibly comfortable arm chair with an ottoman to rest your feet and a throw. Across the room, there's a sofa and a table made from marble, so it's always cool. In the corner of the room, there's the bed. And the most brilliant part? There is a BOOKSHELF and space for books on the night stand next to the bed!
Let There Be Light: There are two light sources that leave the room feeling very brightly lit, even through early evening. One is a relatively small window next to the stove, and the other is a massive row of large windows covering the entire length of the wall.
Kitchen: Yes, there is a kitchen. It's small and tucked away in the corner, so if you're sitting in the armchair (which I am), you don't even realize it's there. There is a full sized fridge, sink, stove-top that is thankfully a gas stove, and even an oven. We brought food from home, so we wouldn't have to eat out all of the time, and had plenty of room for it in the fridge.
After the orientation, there was an informal class meeting, where we all introduced ourselves. Melinda Lopez sounds like she's going to be a fantastic instructor. I asked her about her writing process, and she surprisingly said she doesn't work from an outline, but does have a general idea of where she wants things to go, and she gave us a great breakdown of some aspects of playwriting that differentiate it from other genres, something I hadn't really thought about. One of them that I found interesting was that unlike writing for film, playwriting relies solely on dialogue to move the story forward, rather than on visual elements. Our first assignment was great and something I'm definitely going to try to integrate back at home. The assignment was to go walk down Commercial Street (the main drag) and write down a conversation without embellishing it. Verbatim. I'm always down to be up in other people's business and my ears do perk up when I hear people talking about something interesting, but this legitimized my stalking and encouraged me to refine my technique. As I followed people about just like James Bond (except in shorts and a t-shirt), I came up with fragments of conversations that didn't have much of a narrative: "Oh my God, shuttup." "No, you shuttup." "No, you." Eventually, we stopped at Lobster Roll to check out the menu and I overheard this great conversation from beginning to end. This is the unadulterated conversation:
ASSIGNMENT #1: EAVESDROPPING IN PROVINCETOWN
Two men and a woman are standing around Lobster Roll.
GIRL
He changed his mind?
GUY #1
He said he don't want nothing too greasy
GUY #2
Mike doesn't know what the fuck he wants. Couple weeks back, he was all "I'm gonna get a pit bull all excited and shit. Then boom, outta nowhere a few days later, he's like "Dude, I cant get a fucking pit bull."
GUY #1
Whatever. he just missed out on lobster.
GUY #2
Fuck Mike.