This Halloween, I thought I would pay tribute to one of my all time favourite books: The Gashlycrumb Tinies written and illustrated by Edward Gorey. Most people who have read the book come away from it with a sense of entertainment mingled with a strong dose of horror (and for good reason), but rarely have I met someone who has picked up on the literary genius of this man. The story is so deviously simple and yet so complex in its execution. Using the complicated rhyming dactylic hexameter, which even Shakespeare infrequently attempted, Edward Gorey offers us his macabre interpretation of the abcedarian book. He tells us the tale of 26 children, each drawn with blank Victorian faces as they meet very disturbing deaths. Some of them are quite graphic in their depiction of death, while others leave it up to the imagination. Here are two examples: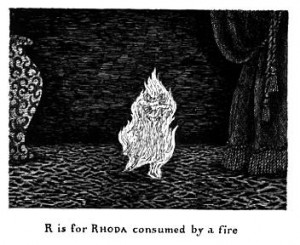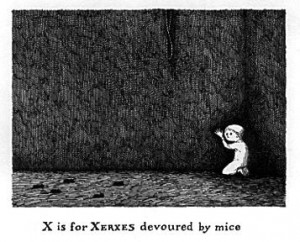 "R is for Rhoda consumed by fire," offers a very literal depiction of a child's death. There is a child, who we assume is Rhoda, and she is being consumed by fire. If you look closely, you will notice just how full the landscape is; there is a hideous Victorian style curtain and a gigantic vase with a pattern that takes attention away from the child on fire. And then there is the floor which is a shade darker than the vase, but counter-balances the effect of the vase. Lastly, if you pay even closer attention, you can make out a child's face, hands, and legs amidst the fire. All of these elements give us this frightening image of a child on fire.
By contrast, "X is for Xerxes devoured by mice," shows a very Kafkaesque visual. Aside from the main subjects – the boy and the mice -the frame is completely empty. There is an image of a child clinging to a dark corner of the wall waiting to die and the little blotches moving towards him are obviously the mice on their way to devour him. As if these literal images weren't enough to scare you to sleep every night for the rest of your life, there are the subtle elements. The use of light and dark and the etched line drawings on the wall which serve no real purpose other than to draw attention towards the expressionless boy, all in white.
Of all of Edward Gorey's dead children, the one that will constantly haunt me is Neville, who died of ennui. In case you're not up on your SAT vocabulary, dictionary.com defines ennui as "a feeling of utter weariness and discontent resulting from satiety or lack of interest; boredom." It is truly creepy.
Unlike the Victorian black and white children who suffered ghastly deaths at his hands -beginning with Amy, who fell down the stairs, and ending with Zillah, who drank too much gin – Edward Gorey died of a heart-attack at the age of 75 in 2000. While he is best known for the characters in The Gashlycrumb Tinies, Edward Gorey has written over 90 books, illustrated 60, and produced two books within the last two years of his life: The Haunted Tea-Cosy: A Dispirited and Distasteful Diversion for Christmas, and The Headless Bust: A Melancholy Meditation on the False Millennium.
Below is a youtube video of an excellent tribute to the Gashlycrumb Tinies, with minimal animation and an audio reading of his story:
If you'd like to check out the complete A-Z original manuscript, view it here at http://www.stumbleupon.com/su/2us386/www.plastic-castle.com/tom/tinies.htm/r:f