As the curtain draws on 2010, I thought I'd give you a list of my favourite books of the year . The way I chose these books is a very scientific methodology; sometimes I pick up a book because I like the font, other times because I've heard something about the author or the subject, but most of the time I've chosen books at random from one of many bookstore dates me, Sona, and our now ten month old daughter –Kavya – routinely go to in New York, New Jersey, or California.  In no particular order:
1.  Serious Men by Manu Joseph
This highly underrated story explores caste issues using  humor. Think of him as a funny Rohinton Mistry. The main character, Ayyan Mani, is a middle-aged member of the "untouchable" Dalit Community, working as an assistant to a brilliant Brahmin astronomer in Bombay. Discouraged by his position in society and in his career, he concocts a small lie at first – that his ten-year-old son is a genius. The lies start piling up and reach epic, but utterly hilarious, proportions.
2. The Sea by John Banville
The writing in any of John Banville's books is just breathtaking, but "the sea" is my all time favourite that I just picked up a week ago in Fresno, California. It feels almost like poetry, rather than fiction. Here are two examples taken from the first paragraph: "The seabirds mewled and swooped, unnerved, it seemed, by the spectcle of that vast bowl of water bulging like a blister, lead-blue and malignantly agleam." And "Someone has just walked over my grave. Someone."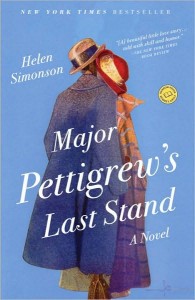 3. Major Pettigrew's Last Stand by Helen Simonson
I picked this book up on a complete whim, in a mad dash at Borders Bookstore near Penn Station in New York City, enticed by the pretty picture on the cover. I absolutely loved it. Couldn't put it down. It is a straightforward story with no fancy sleight of hand in the narrative, but with great depth in the characters and the story. The story is, fittingly, about Major Pettigrew, a refined widowed Englishman with a yuppie son who has no interest in his father's traditional values. Major Pettigrew befriends Jasmina Ali, the local Pakistani shopkeeper, who he seems to have nothing in common with at first. A brilliant read, which just so happens to be a debut novel.
4. The Way Things Look to Me by Roopa Farooki
I've read all of Roopa Farooki's novels, and while I wasn't particularly fond of her debut novel, "bitter sweets," I did appreciate the writing and the effort she put in avoiding clichés that are rampant in many stories involving stories with Asian characters. The Way Things Look to Me is a very ambitious novel that I was initially wary of as soon as I saw hints of the main character, Yasmin, having autism with "high performing Aspergers Syndrome." She turns out to be an autistic savant who can calculate complicated mathematical equations in her head and picks up languages very quickly. There wasn't a hint of cliché in the storyline, or with any of the characters, which I was pleasantly surprised by. Roopa had done her research in effectively creating a character who did two very bold things: 1) she happened to be brown and 2) she happened to be autistic. This is an incredible feat to have accomplished.
5. The Invisible Bridge by Julie Orringer
To call this a "holocaust" story is like calling Hamlet a murder-mystery. Not only is this well-written, but it rips straight to the heart of the holocaust. That these horrific things happened to people of varying moral character; some were busy thinking deep thoughts and being serious, running businesses, and others were busy falling in love. I don't want to give away the plot on this one, but read this. It will be well worth the time. And you'll learn something (but don't let that discourage you!)
6. Lord of Misrule by Jaimy Gordon
This is so far off base from the kinds of books I read, that I am surprised at how much I enjoyed it. Even books I randomly pull of shelves don't cover subjects I have zero interest in. This book is about horses. Don't run away, yet. There is more. And yes, this was randomly pulled off the shelf. It is a novel with the backdrop of a racetrack with amazingly, no horseracing clichés. There's even a brief moment of the horse voted most likely to fail having a chance at clichéd redemption, only to fail big time. The story delves into the relationship between horse and handler and is set at an incredibly dodgy (in the worst sense of the word) racetrack in West Virginia during the 1970s.
7. Matterhorn by Karl Marlantes
With very few exceptions (Doctor Zhivago is at the top of this short list), I am not a fan of war novels, particularly those about the Vietnam War. They always seem to get sucked into sentimentality and a sense of hope, when there really is none on the battlefield. Matterhorn captures the trauma of war like a raw nerve. The writing is beautiful and poetic at time, and blood curdling at others; there are heroic incidents that miraculously don't delve into sentimentality.
8. Freedom
 by Jonathan Franzen
Despite the "controversy" surrounding Jonathan Franzen's fourth novel, Freedom, via twitter by Jennifer Weiner and Jodi Picoult, I thoroughly enjoyed reading it. The voice is crisp and the use of various narrative strategies to tell the seemingly simple story of a couple whose marriage is disintegrating, is pure genius. And the icing on the cake: One of the characters (yes, it's the womanizer) lives in Jersey City and takes the PATH train. Reprezentin.
9. Man in the Woods by Scott Spencer
Those of you who have read even some of what I've written on this blog can assess that I am an avid fan of existentialism and love stories that dissect and question our entire existence based on impulsive acts. And who doesn't enjoy completely unnecessary violence. This story has absolutely stunning imagery, from the descriptions of animals, woodworking, even observations of life take on a scenic texture. The story is about a good Christian man who is faced with a moral dilemma and impulsively resorts to acting violent. This act of violence is witnessed only by a dog. The rest of the novel follows Paul as he questions his entire existence and his moral compass because of this one act. It is very remniscent of his other novel, "A Ship Made of Paper."
10. World Without End by Ken Follett
Ten years ago, I read Ken Follett's groundbreaking novel, "Pillars of the Earth," and remember how vividly I remembered every single character and voraciously read through the entire 1000 page novel in two sleepless nights. My mother probably thought I was on drugs when she saw the redness of my eyes! World Without End written twenty years after Pillars of the Earth is not really a sequel, but takes place in the same town and after all of the original characters are dead. Some of the main characters are heavily referenced, such as Jack Builder, and there is evidence of very similar characters in this book. And of course, the mandatory rape scene committed by a character who will not get punished for his deeds, but will end up being sad and lonely as a punishment.
Share and Enjoy