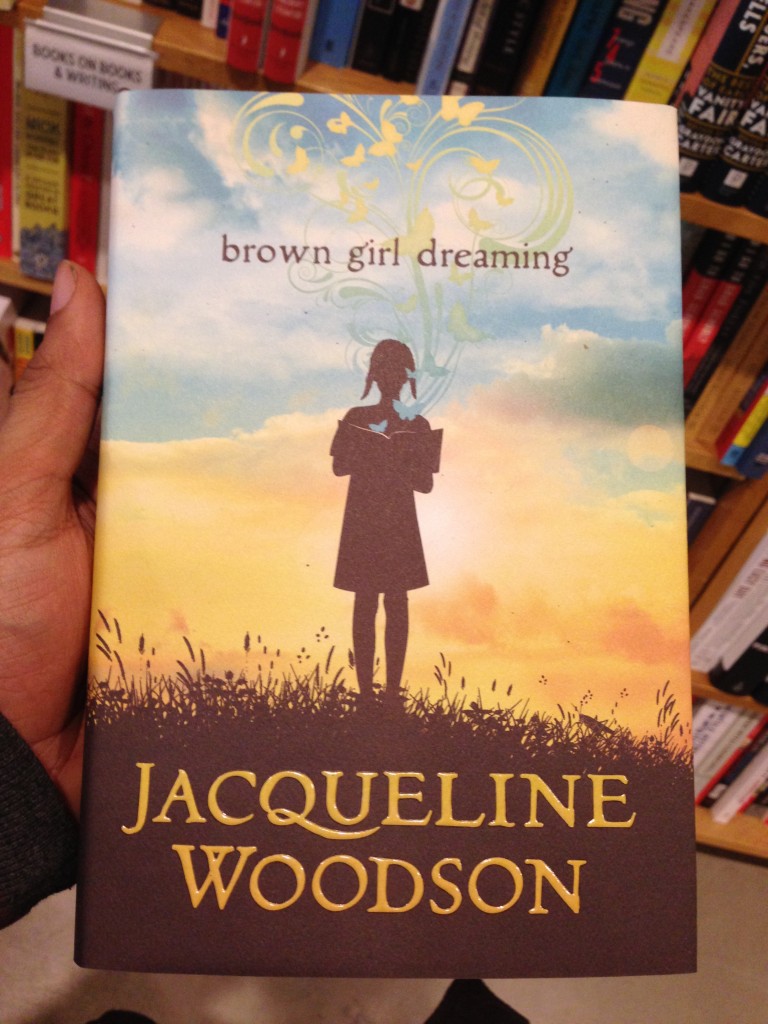 But first, let's talk about Jacqueline Woodson, one of the authors who received the National Book Award for Young People's Literature.
A few years ago, I met Jacqueline Woodson at the Fine Arts Work Center in Provincetown, where I was taking a glorious week long playwriting workshop with Melinda Lopez. There were only a handful of people of colour present, so we all gravitated towards each other, despite not having much to talk about. The cardinal rule of not talking about race, or even mentioning the word, "white," in a roomful of white people wasn't broken. We used the word hello as a symbolic gesture, an acknowledgement of each other's existence. Me and Jacqueline had a lovely, cursory conversation. Then she read a small section of her work, which I thought was so fantastic I had to immediately read her work and finally understood the draw of Young Adult literature,  Sona and Dhonielle have been banging on about for years.
As soon as Jacqueline Woodson's, "Brown Girl Dreaming" came in the mail, I spent a very leisurely two weeks reading and re-reading it. The writing is gorgeous and haunting and beautiful, creating a range of emotional effects that forced me to abandon my ingrained way of reading most books. It's the first book in a very long time that I've just read as it's meant to be read – like a book– without overthinking  craft and theme and structure and all of those other boring things writers like to do to suck the fun out of reading. This is one of those rare birds – it's poetry wrapped in story. It's memoir layered in poetry with a narrative. Perhaps it's a combination of these things. Most likely, it's none of these things. It's just a fucking awesome read.
When I heard she won the National Book Award, I was super stoked, not just because it's well deserved, but because of its implication in the literary world that my son and daughter and niece and nephew are inheriting: a truly diverse definition of normal that goes beyond just black and white and brown.
Now let's talk about this motherfucker.
David Handler, better known as Lemony Snicket, made several racist comments during the night he hosted the National Book Award, including one directed at Jacqueline Woodson. His antics are described as variations of what the Washington Post  calls, "an incredibly ill-advised joke," and Publishers Weekly frames vaguely as "remarks he made about Jacqueline Woodson." CNN uses single quotes around the word, 'racist' because it's one of those complicated things. But they do offer clarification on why 'some people' might be offended:
"Watermelon is historically evoked as a favorite food among black people in racist jokes, and it's considered by many to be an offensive reference."
Ahhhhh.
David Handler never used the word, "racist," because we don't use those kinds of words in polite conversation. And apparently, neither does the media.
I believe Daniel Handler is being honest when he says he didn't intend to cause offense. That's what makes this even more emblematic of a much larger problem. He thought it was funny and assumed other people would find it funny as well. Jacqueline Woodson is allergic to watermelon. And she's black. HA! It's perhaps an appropriate dose of reality, a reminder that this is the normal we're dealing with, and the reason #WeNeedDiverseBooks (WNDB) movement and diversity focused book packaging companies like Cake Literary are so profoundly important.
When I heard Daniel did the right thing by promptly apologising, as well as pledging to donate $10,000 towards the We Need Diverse Books Indigogo campaign (and this morning said he would match any money raised for WNDB today, up to $100,000), I was pleased and willing to let it be one of those idiotic things that happens for the greater good. Then I did something I probably shouldn't have. I read his apology:
"My job at last night's National Book Awards was to shine a light on tremendous writers, including Jacqueline Woodson and not to overshadow their achievements with my own ill-conceived attempts at humor. I clearly failed, and I'm sorry."
It's a bullshit apology that follows the standard white person apology template. Daniel Handler admits to being wrong, but not for being racist. That burden is on us oversensitive people of colour. Then he donates an acceptable amount of money to a worthy cause, so we're not supposed to say shit about him anymore. Now we move on. Shockingly (or perhaps not that shockingly), not very many people were talking about this in the first place. Now most people have completely forgiven him and he is free from further criticism. It's not like he threw a banana at Jacqueline or burned a cross or anything.
Junot Diaz puts my entire rambling thoughts into one succinct rhetorical question: "If Daniel Handler is one of the 'good guys,' who the fuck needs bad guys?"
Daniel Handler is one person in a system and it's the system that makes his comments seem like they're not that big of a deal and through a glib apology, nothing else needs to happen. Whether people like it or not, a conversation is happening. And Daniel Handler is helping make it a loud one, even it is through guilt.

So go visit the #WeNeedDiverseBooks Indigogo campaign. Through today (Friday, November 21, 2014), Daniel Handler will be matching all contributions made up to $100,000. The money raised will be used to fund grants for bringing diverse YA authors and books to schools and libraries, provide financial support for diverse authors, and most excitingly host the first ever Kidlit Diversity Festival in summer 2016, amongst many other pragmatic goals.
Share and Enjoy