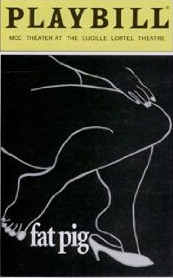 Over the weekend, I went to see Neil LaBute's latest play, Reasons to Be Happy and was pleasantly surprised not to feel guilty immediately afterwards. The guilt came a little later on, and I wrote an entire blog post about that here. The characters in his plays are brutal. Sometimes they kill children, are involved in gangrapes, beating of homosexuals, and in other cases, they're sociopaths, unable to feel empathy for anyone.
His plays have been called out for misogyny, misanthropy, and relying too heavily on shock as part of the narrative. I don't disagree with any of that, but the one thing they gloss over is that he is an absolute genius when it comes to manipulating words, and creating the most imaginative plotlines. So it's a little disappointing such a brilliant writer is constantly writing plays about straight, white people. Not that there's anything wrong with that.
This is not my first encounter with Neil LaBute. Many years ago – 2004 to be exact –as a surprise, my wife, Sona took me to see Fat Pig at the Off-Broadway MCC Theater in New York City for New Year's. Then we stuffed our faces with freshly made Mexican food at La Palapa and waddled to mid town in the middle of the night, blissfully unaware of the irony as our jiggly bellies swayed back and forth. Fat Pig revolves around Tom, a seemingly nice guy, with boyish charm, played by Andrew McCarthy. He is dating a confident, overweight librarian, and Carter, his best friend, played by Jeremy Piven, mercilessly ridicules her because of her weight, and also Tom for dating a "fat pig." He tells him to "stick with your own kind."
Tom is presented to us as a passive participant, clearly the moral center and without him, everything is lost in the play. Spoiler alert: everything is lost. Tom is placed in direct contrast to Carter, who is a complete dickhead: overtly misogynistic, cruel, unfeeling, and makes extremely mean spirited fat jokes without any empathy towards her as a person. There are other complications added to this like the slim and pretty Jeannie, who takes it as a personal insult Tom has chosen Helen "the fat pig," over him, but the central conflict is that the fate of both women rests in Tom's hands, depending on what he decides to do. The idea of beauty is one that comes up in many of his plays, and is one that he constantly challenges the audience on.
For most of the play, Tom chooses to do nothing, until he is forced to take a stand when Helen pushes him to do so. At a work barbeque, it is clear he is embarrassed by her, and she tells him that their relationship can only work if he accepts her and their situation, even if that means defending her to his friends. And Tom, the hero makes the first decision in the play by giving up. The play ends with them both being broken hearted, and the audience reeling from the emotional turmoil Neil Labute has just put us through, without any emotional payoff.
In the Company of Men, two men decide to inflict cruelty upon a deaf woman by sleeping with her, making her think they're both in love with her and then dumping her as a game. LaBute has a play with a similar premise I read called, "The Shape of Things," where a woman is the one who inflicts this cruelty on a boy, who thinks they're in love. "Let's hurt someone," a line from In the Company of Men, in general, sums up all of Neil LaBute's plays, including Reasons to be Happy: Someone has to get hurt.
For days after watching Fat Pig, I still thought about how mean the dialogue was, the characters, the level of misogyny, and yet how brilliantly written. He writes both male and female characters very effectively. Or at least better than many novels I've read and Hollywood films I've watched. The stock characters are usually the people Hollywood would make the heroes: that generic chiselledfacewhiteguy. In both Fat Pig and In The Company of Men, these are the men who bear the brunt of the audience's feelings of hatred. By contrast, the women are usually drawn fairly well, with strong dialogue and are emotionally complex (relatively speaking).
And yet, despite LaBute being a fantastic writer, the claim of mysogyny, racism, or homophobia are also very present in his work with lines like, "Fuck em, they're Asian. They can wait," amongst many others. The premise he tends to use seem deliberate in fostering an environment of misogyny, racism, and homophobia akin to Quentin Tarrantino using a narrative premise that allows him to use the word "nigger" through his characters, as a matter of normalcy. It would seem odd not to use the word in a world set during slavery the same way it's perfectly normal for Neil Labute's characters to talk about being white, heterosexual, and make jokes about women and minorities. When he does have black characters (no brown ones yet), it's specifically for issues relating to race. Take the film, "Lakeview Terrace," where Samuel L. Jackson plays a cop so enraged by an interacial couple that he goes mental and it becomes a bit of a parody. In his 2005 penned play, "This is How it Goes," he uses an interracial couple to talk about the facade of niceties and get to the meat of the matter: racism and what this term even means.
There are many excellent writers out there in a variety of genres, and we will all continue to flock to their work, but it would be nice if the issue of representation was broached. Or even attempted to be taken into the fold of their narrative and the world they create.
A friend of mine, author Dhonielle Clayton, a YA literature fanatic and little brown librarian in Harlem, wrote an open letter to John Greene about his lack of diversity in any of his novels. And they had a conversation over twitter, one YA book nerd to another, with his reasoning being that he didn't know how to write non-white characters. He did say that he would think about it in the future, but let's face it, he doesn't have to do anything. I think it's a silliest argument about representation though, and there's not much in terms of originality in the answer. Brown and black fiction writers are expected to write white, or race neutral characters in their books all the time for the perceived white audience, who won't otherwise be able to relate.
An excellent article with such a catchy title up on race-bending, Star Trek: Into the Whiteness, calls out JJ Abrams on completely white washing the racially ambigious Khan Noonian Singh, to a white guy. And his reason is exactly the same as every generic white writer.  He didn't want to villify someone brown. A nice sentiment, but the alternative, it seems, is to pretend we're all invisible. Here's a thought. Write us the way you would write a white character, except let us keep our skin color. We'll even relax the laws that require you to talk about our exotic culture and traditions in our native land. The casting folks for Cloud Atlas decided there aren't any Asian actors in Hollywood, so thought it a better idea to put a white actor in yellow face, slanting his eyes, and that's exactly how it went down. Blackface, for now, is not as in vogue as Yellowface. But it may very well make a comeback too.
Share and Enjoy