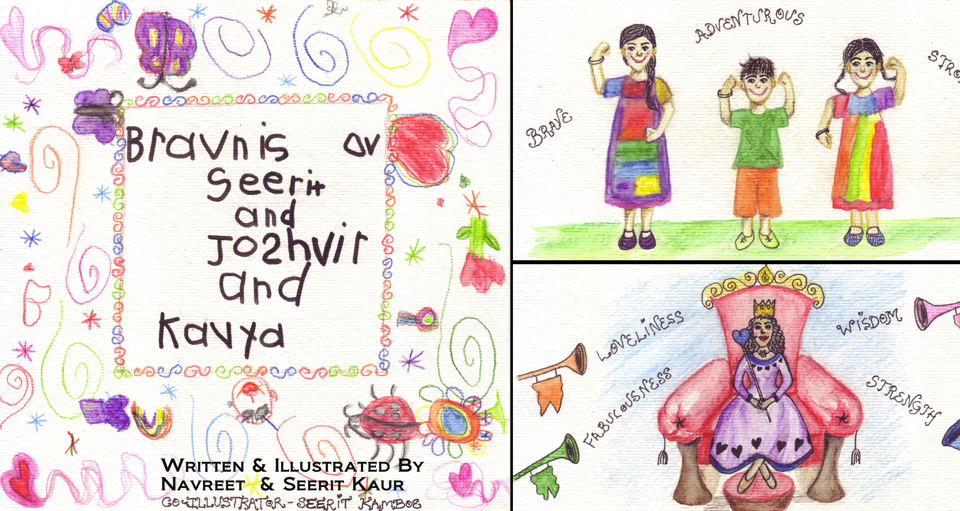 Bravn is Seerit and Joshvir and Kavya is an action-adventure picture book written, illustrated, and published by my sister, Navreet and my niece, Seerit. It is the riveting story of three brown children, who meet a flatulent, fire-breathing dragon. The two sisters – Seerit and Kavya, and their brother, Joshvir, with Queen Navreet conveniently chucked into the narrative, go through much danger. No children are eaten in the course of this story, unfortunately, nor are any dragons killed. Despite these negatives, it's still a good read. Since it was published ghetto style by her husband at a shop down the street from them: Costco, Walgreens, or some place like that, supply is limited. Best watch out, Mo Willems! Download pdf | Download .epub
In October, my wife, Sona Charaipotra and her business/writing partner, Dhonielle Clayton's sold their Young Adult mystery, Dark Pointe, to Harper Collins Teen and launched their packaging company – CAKE Literary. It was announced on Publisher's Weekly for the week of October 21, 2013 and much merriment ensued (check out my post with way too many exclamation marks).
It's been two months since that announcement and the book is still not in bookstores, nor can you download it onto your tablet. My dad called Sona up a few days after the announcement to ask when it would be in the bookshop, as did my sister, and many other family members. Apparently, publishing with a big, fancy pant company takes a long time. A really long time. Two years. "TWO YEARS!" is how all of the family members who found out about the long wait reacted. Some of them threw things on the floor and folded their arms in violent protest. Fine, it was just me.
It all began a few weeks before Thanksgiving. While eating an apple at work, Navreet decided she'd become a children's picture book author. When she told me she was going to have three brown characters as protagonists,  I told her to stop being a racist and just have them be white to make the story relatable to children. Also to keep the storyline universal. Also, it's a difficult field to break into because these days illustrators use all sorts of software programs for the drawings and the text.
"You should learn how to use Adobe Illustrator and Photoshop first. It'll take at least a year of classes," I said. "Then take courses in fiction, screenwriting, and there are courses you can take in storyboarding. After a few years, join a writers group, whose job it is to make you question the legitimacy of what you just wrote and to endlessly rewrite. In seven or eight years, maybe you'll have the text written. Then you can find an illustrator if you haven't mastered the software programs by then. And after several more years, you can approach agents, and once a contract is signed, your book will be on bookshelves two years later," I helpfully added.
"Nah," she replied.
She was going to bypass the boring bits of being a writer, in favor of only the glamor. Waiting for editors with notes, waiting for editors without notes, waiting for the book cover design, waiting for it to actually be published years after the contract has been signed, waiting for marketing people to tell her what to do . . . . . "Waiting isn't my cuppa tea," she said. Also, she doesn't like getting on and off planes, so a book tour wasn't her cuppa tea either. Nor was social media.
"I don't want to get a bird. I already have two children. Three if you count my husband," she said.
"It's not a bird, it's twitter," I said to no avail.
In all seriousness, it's a lovely book and a true labor of love. Conflict needs more violence, swearing, and bloodshed. But that's what writing workshops are for. The only downside to having your loved one be the publisher of a free book with their own money  . . . is that supplies are very limited. So far, there are only two copies. One for Seerit and Joshvir, and the other for Kavya. Here's the link to the pdf again: Download Bravn is Seerit and Joshvir and Kavya. Maybe there'll be another book soon!
Share and Enjoy