The first time Sona introduced me to her immediate family, we ended up going to her cousin's house for a "small get-together," which turned out to be 40 people! And this became indicative of any celebration, big or small. We were constantly surrounded by immediate and extended family in New Jersey for all of the big celebrations, which we knew was a production (food, washing up, dealing with drama), but was something we all looked forward to, and took for granted. We just couldn't fathom that there would be a momentous celebration where the whole family wouldn't be present.
We assumed Thanksgiving this year would be a boisterous affair here in New Jersey, as it is every year, with Sona's family spread out all over the house, the steady boom of Raju Mama's voice bellowing "oh ya, ya, ya," the constant sound of people chattering, Meena, my sister-in-law complaining that she is hungry while talking about cake, the clinking of glasses, Sona and her cousin, Arun, baking an assortment of delicious goodies, "the cousins" making plans to be part of the criminally insane crowds lining up at 3am at Menlo mall for Black Friday sales, and of course, the intoxicating aroma of masala turkey –  a Charaipotra tradition.
Instead, it ended up being a very intimate affair, much like I'm used to having with my family back in California. The difference, however, is that most of my extended family are all in India, whereas most of Sona's extended family all live minutes away from her parents' house, so it was a very strange feeling not having them here for Kavya's first thanksgiving.
We all sat at the table, including Kavya, our nine-month-old daughter. Each of us had contributed something to the meal: Sona's mom made the famous masala turkey, which has never failed and is integral to Thanksgiving at the Charaipotras, and now, the Dhillons too! Me and Meena had made some deliciously concepted desserts: red velvet cupcakes and low-fat pumpkin pancakes respectively, both of which failed in execution; Sona made mac and cheese, which I hear good things about; Sona's dad made some scrumptious mushrooms with vegetable filling; Tarun had initially disgraced himself by mashing up the potatoes a little too vigorously causing them to become mushy, but redeemed himself with Wasabi, Green-tea, and Dark Chocolate Kit-Kats he brought all the way from Japan, all of which were delicious.
And Kavya? Her contribution is simply existing. With all the negative things that weigh down on all of us, she represents the inherent goodness in everything.
Although it was a much quieter Thanksgiving than we were expecting this year, it also gave us a chance to really reflect on the things that are important to us, the things that we are thankful for.
As morbid as it is, I like the idea of a bucket list. That you should live your life with goals to accomplish so that when you do "kick the bucket," you are ready. The T.V.show, "the Buried Life" and many social communities are devoted to helping people accomplish things on their list; there is even a film called the Bucket List starring Morgan Freeman and Jack Nicholson. And the reason I like the idea is because it is logically flawed from the onset. As someone gets closer and closer to finishing their list, their list will inevitably get longer. Who wants to die if they're having fun living?
But while I like the idea of a bucket list, what I love is something I have very recently been made aware of by reading my wife, Sona Charaipotra's latest blog post: On Thanksgiving, Assessing My Reverse Bucket List. She in turn first heard about it from a blog post by fellow freelancer and member of Freelance Success, Diane Silver, who in turn heard about it from her friend, Mary Anne.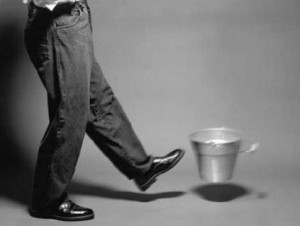 A reverse bucket list highlights things that you have already accomplished in your life, which should make you think more carefully about things to include in your bucket list.
I see no reason to just make one list. That's why I've started both, and encourage you all to do so as well, regardless of how old you are. And it is simply a must if you are an artist in any capacity: a poet, a writer, a visual artist, a musician, and anything in between. Otherwise the blandness of life will win.
So without further adieu, here is my reverse bucket list (stay tuned for my bucket list):
Reverse Bucket List
Sikh Philosophy: Lessons from the lives of the Gurus, the sacrifices made throughout Sikh history, the poetic power of the few verses I have read in the Guru Granth Sahib, and the countless things I don't know about, have really shaped and continue to shape my understanding of the complexities of life, death, and the world around me.
Kavya, our daughter: When she gives me cuddles by tightly gripping my neck. When she climbs on top of me to fall asleep and I can feel her breathing. The way she looks at me and says "ehhh" when she needs something. When she needs me. The fact that she is a combination of me and Sona. There are a million more things, but they all boil down to one thing: she exists.

My wife, Sona Charaipotra: I am incredibly lucky to have found her. She is beautiful, smart, a wonderful mum, and is the only girl I know who likes spending hours and hours at the bookstore, and she knows the trauma of being a writer. We've both been afflicted.

My family: There are really no words or sentiments I can effective put to words to convey how awesome they all are. My mum has always been supportive of me through thick and thin. Although we sometimes have our scuffles, I share a unique bond with my dad, Pashaura Singh Dhillon, a punjabi poet and singer. We both suffer from the plight of being writers incredibly passionate about our words and liable to procrastination through "busy work." My sister has always been my biggest fan and has been supportive of anything I've wanted to do, no matter what it was, and never once thought I didn't have the chops to do it. Even when it involved math. That's how supportive she was =) I've learned the basics of traits I want to have as a father from my own father, but also through my mum and sister. The rest I'm learning as I go along.
Traveling: I can't imagine my life without travel. From traveling with my parents and sister, living in China, backpacking alone, traveling through India for six months on one of many honeymoon adventures with Sona (check out IshqInABackpack.com), and the traveling we hope to do with Kavya, travel has helped me understand the world, myself, and better communicate with other people.

Getting my Masters of Fine Arts in creative writing: The choice to pursue this degree was one of the best decisions I've ever made. It took me out of my comfort zone and into the world of fiction, non-fiction, writing craft, critical analysis, and southern literature. It allowed me to explore what sorts of stories I want to write about.
Teaching: I love to teach and as clichéd as this will sound, it truly is rewarding. I thoroughly enjoy imparting both technical skills in the art of writing to my students, to help them make the connection between ideas brought up in literature, and the relevancy with their own lives.
Share and Enjoy