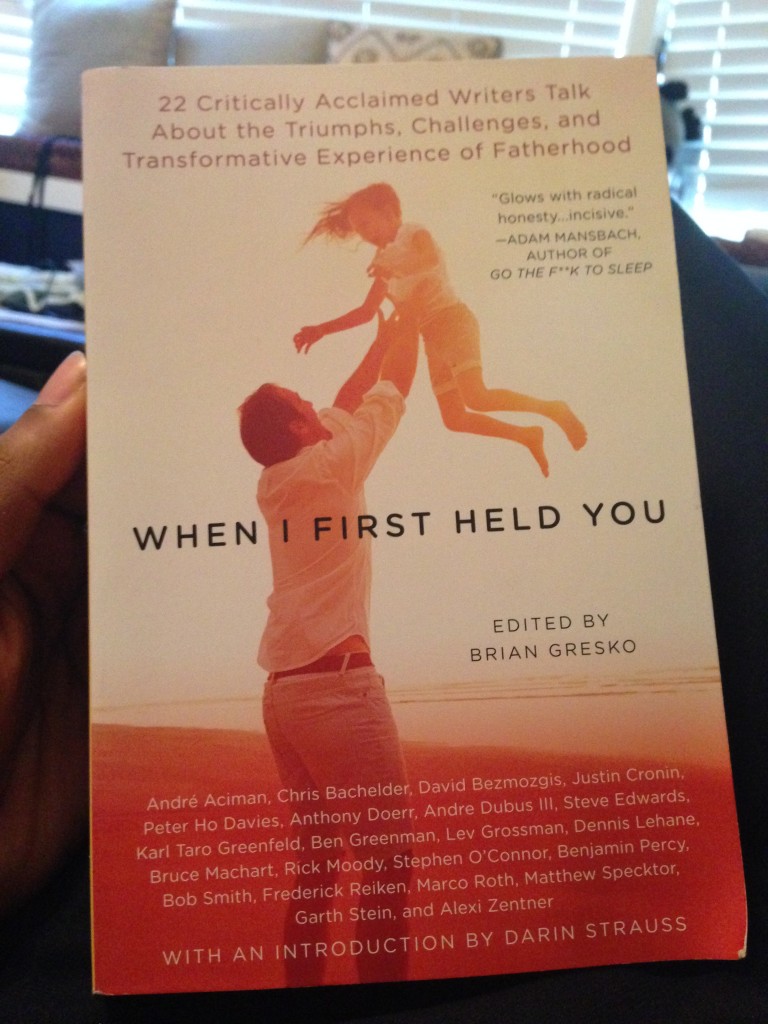 The months before Kavya arrived were spent in a haze of baby books, mostly about the biological effects of pregnancy, as well as some great motherhood memoirs. Books marketed for Dads were of the overly sentimental Chicken Soup variety presenting Dads as strong men of character, transforming into sages and experts overnight. There were entertaining guidebooks written in ways that reminds me of the Geico commercial slogan: so easy, even a caveman can do it. In this case, it's so idiot-proof, using military terminology (guys love to go on missions! Codenames for all!), sports metaphors, and definitive winners for things like breast milk versus formula, that even a man can understand it.
When it came to Shaiyar Singh, I didn't find any relatable dad books, but found some fantastic dad blogs with posts using a strong storytelling voice and a gamut of experiences. The blogs were the first time I saw fatherhood being treated as its own entity, rather than just a source of humor with the bumbling dad trope.
My favourite dads, other than my own, are all fictional characters. Atticus Finch from To Kill a Mockingbird, who taught me that unflinching morality, honesty, and standing up for principles matter in spite of public opinion. Jean Valjean in Les Miserables a man of honor, yet he has no qualms about lying to protect his daughter, and accepts her choice to marry a boy he doesn't approve of. Because that's what good Papas do. There are also fathers from Sikh literature, like sakhis about Guru Gobind Singh and Guru Tegh Bahadur, whose parenting skills all revolve around principles and ethics. And there are also plenty of dads in literature, who are incredibly flawed people, but still try to be good dads. Unless you're Humbert Humbert, then you just want to see him get destroyed. Or Victor Frankenstein, who really should be making it onto more lists for Worst Literary Dads.
As soon as I read the premise of When I First Held You, edited by Brian Gresko, I was intrigued as it combined my two favourite things:  literature and fatherhood: "22 critically acclaimed writers talk about the triumphs, challenges, and transformative experience of fatherhood." It sounded like it had all the trappings of overly sentimental depiction of fatherhood, so I was still on the fence. I read the list of contributors – all novelists! – and it's a great lineup:
Andre Dubus III, author of The House of Sand and Fog. Bob Smith, author of The Remembrance of Things I Forgot, and the first openly gay comedian on the Tonight Show. I'll just call him a total badass and leave it at that. Google "Bob Smith. Badass," and you'll see what I mean. Or just click HERE. His novel had me in tears from laughing and completely quiet during its more poignant moments. And there's a time machine! Denis Lehane, who writes novels with really creepy scenes filled with tension and brilliant plot twists with novels like, Shutter Island, Mystic River, and Gone Baby, Gone. Andrè Aciman, director of the CUNY Writers' Institute, who has written lot of non-fiction, and some amazing fiction like Eight White Nights and Harvard Square, with a very slow moving plot, with writing that flows like poetry.
Andre Dubus III writes about coming to terms with being a father in "The Door."
"Daddy. It's not something U ever thought of being. I had a hunch not many other men gave it much thought either."
Bob Smith's essay, "Zombie Father" is just as off the wall funny as anything he's ever written or said, yet he manages to slow it down to a level of profoundness, and he is fantastic with his first sentences. Consider this from "Remembrance of Things I Forgot" :
It's safe to say your relationship is finished if the only way you can imagine solving your problems is by borrowing a time machine."
Sounds reasonable enough. And this first sentence from the essay:
My three-year-old son, Xander, after peeing in his grandma' Sue's bathroom, returned to the living room and asked me, "Bob, do you have a penis."
It only gets better from there.
Denis Lehane's essay, "On Love and Incompetence," was just as tense and loaded with subtle, dark humor as in his novels. When I read his novels, I feel like I'm inside a paperbag and tense up the entire time, yet read it I must. And that is exactly how I felt as he wrote this essay, especially this part where he describes his daughter choking on yogurt bites:
When my daughter, 364 days at his point, began to choke, my wife and I knew exactly what had caused it. And we knew to remove her from her high chair and bend her forward and pat her back in an upward motion with the heel of a hand. Still, she kept choking. And her eyes rolled back in her head. It's the Shit happens of the parenting world: Kids choke."
Andrè Aciman's "Empty Rooms," is written with the same meticulous attention to detail, richness of language, and introspection I've come to enjoy of his novels and non-fiction work. I had the chance to get to know Andre when I attended the CUNY Writers' Institute and really enjoyed our talks. He was very upfront about the unwieldy trajectory of his career path, as well as his road to publishing.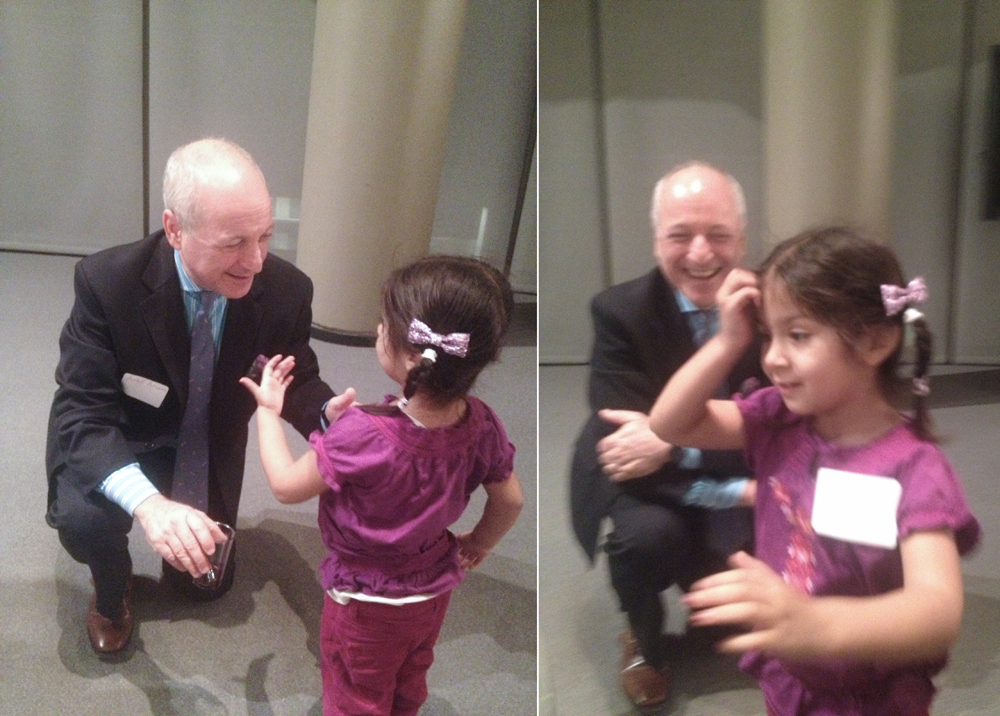 The few times Andrè met Kavya – during orientation and at my graduation and reading, he was always very playful despite having to run back and forth making speeches or speaking to fancy literary folks, he would stop and give her all his attention, commenting on her nails or shoes or they would talk princess. I've always wondered about his take on parenting and loved the essay he wrote all the more because of this curiosity. He wrote about when, after 20 years, he suddenly had an empty house, and rediscovering having a relationship with himself.
Then one day, two years later in September, the twins left as well. Suddenly a half gallon of milk lasts eight days, not just one. We don't buy sausages or peanut butter or stock all manner of cereals that have more sugar than wheat. There is no one to rush home and cook for, or edit college applications for, or worry about when theyre not back past 3:00 a.m."

The gates are thrown open, the war is over, we're liberated."
The glue that binds all of these essays together is in no small part because of the work of a marvelous editor, Stay at Home Dad, writer and Brooklynite, Brian Gresko, repped by Erin Harris from Folio. In the introduction, which is really an essay in disguise, he writes beautifully about things I have taken for granted and contextualizes the title of the collection.
He didn't have to be my father, he chose to be. 'When I first held you,' he told me, 'I knew. I wanted to be there to see this kid grow up.'"
The moment I held Kavya in my arms, she became real and transformed from being an abstract idea to a tangible, living, breathing, little human. Our interaction wasn't the way they show you in movies, with the father and baby looking at each other, connecting in silence, eyes all watery. I tightly held Kavya close to my chest, as she screamed her head off, eyes wide open, eventually she just stared at me with daggers, furious we had removed her from the lap of luxury – not having to exert any effort to be fed, sleeping when she felt like it, not needing to bother with clothes.
Me and Shaiyar had a similar moment except after his rage crying, he passed out. He was also wrapped up like a delicious burrito. Most of my proud Papa moments have been awkward, messy, spontaneous, unrefined, things I would never trade for the perceived tidier versions. But I didn't read any of those kinds of experiences in essay collections. The places I found some of my experiences echoed were in the world of fiction. This anthology is a breath of fresh air and a much needed addition to the world of dad voices.
Here is my only qualm with the anthology. This has absolutely nothing to do with the quality of writing, which is flawless. It's one that is systematic and does't affect just this one anthology, and is the same qualm I have over almost all of the 21 anthologies every author should own by Buzzfeed or the countless essay collections I own, or the required books I teach, or the book lists that continually come out: it's filled exclusively by white people. In the update, I hope there is more inclusion because this is a totally kickass anthology, and it would quickly level-up to Level Bad Ass if Salman Rushdie, Hanif Kureishi, Amitav Ghosh, or the countless Papa Novelists of Colour were to write something about Fatherhood and be part of the next version. There is seriously not a single essay in here that's remotely dull. All of the emotions resonate, the writing is stunning, and it will make the perfect gift for any Papa out there, new to the job, or a professional and not just on Father's Day, but any day.
Spread the love. Buy  When I First Held You  and review it on GoodReads.
Shortlink: http://goo.gl/Foh7Yk
Share and Enjoy