A month ago I a graduated from the CUNY Writers' Institute. Through the program, I have made some real progress on my novel, as well as reignited my first love of writing and reading short stories through an intensive year of workshops with NYC editors. I've started blogging about being an urban Papa for Mom.me's Project Dad, and have begun working for New York Institute of Career Development (NYICD)as a Blogging, Fiction, and Memoir Advisor, which is going brilliantly, not just because it's across from Grand Central Station, although it doesn't hurt being right next to such a fun place!  I've even gotten two of my short stories into good enough shape to submit to literary journals.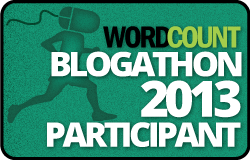 But with the lack of deadlines, my momentum is waning and my blogging has completely fallen by the wayside. When I first started this blog, it was a way for me to organize my thoughts on my novel and to build my freelance portfolio up. Now, I'd like to create an active readership and a sense of community by regularly posting relevant things, and to make it fun again, rather than it feeling like "work." My posts have been sporadic, cluttered, and it's high time I took my blogging seriously. I'm looking forward to the WordCount Blogathon 2013 as an opportunity to revitalize my blog. And as usual, I decided to create more of a challenge by taking on another blog to revitalize: IshqInABackpack.com. Yep, two blogs in 30 days.
I had been sitting around watching Game of Thrones, when my wife, Sona Charaipotra, told me about the Blogathon. I immediately perked up and we both signed up the same time. A minute later, we signed up our flailing travel blog, IshqInABackpack.com, which had initially been created to document our six-month honeymoon through India, and is now rebranded as a narrative-focused family travel site. And it's even more inconsistent than this site, if you can believe that! Then we managed to convince my 74-year-old father, Pashaura Singh Dhillon, a Punjabi poet and singer, to sign up for the Blogathon. Like both of us, he is also quite lackadaisical about the frequency of his blogging, and very much like me, he spends way too much time on each blog post, making it feel like an all-encompassing essay sometimes. So it's good fun that it's become a bi-coastal family affair.  I'll write a separate Blogathon post for IshqInABackpack.com, and please do checkout my father's post at: PashauraSinghDhillon.com and Sona's post: SonaCharaipotra.com, and follow the conversation on Twitter @navdeep_dhillon with the hashtag #blog2013.
Here are the things I'm going to accomplish through the WordCount Blogathon starting today, June 1st:
Structure. Right now, my posts are a little scattered, although they are generally restricted to a couple of categories. I'd like to start writing more structured posts on the craft of writing, my own process, giving props to other writers whose work I like, especially debut authors of novels and short stories through reviews, my thoughts on literary trends, conferences and panels I attend, adjuncting, teaching, and race in literature/film/media.
Discipline.  This means setting aside time to read books and short stories, other people's blog posts, and the act of sitting down to write my own posts. To actually complete the challenge with quality posts. To write for 30 days with 30 posts that are interesting and reflective of what I'm trying to achieve, rather than just going through the motions.
Keeping Tabs. Even though the active readership I'll have during the Blogathon will initially only be Sona and Pappari, I'm going to list my weekly goals on Monday and write a check-on post on Friday to see how I'm able to stick to it. And this will include how my own writing is progressing.
Community. I would like to build my readership of this blog to include other bloggers, writers, readers, and anyone who finds the content of my blogs interesting.
Comments. It would be great to have a discussion through comments and social media. On other sites, I love how the commenters challenge the author's views, or deepen the conversation. By completing this Blogathon, I'm hoping to start a steady stream of discussion, rather than sporadic comments on certain posts.
Anyone else doing the WordCount Blogathon in June, 2013? Would love to know what your reasons are and please put a link to your first blog post in the comments. Follow me @navdeep_dhillon.