I spend way too much time on the internet and as such, I am generally pretty unmoved by most videos lamenting the state of education. I had very low expectations of this video that a friend and fellow adjunct sent me with the vague and irritatingly instructive subject line: "Watch this!" I go through the charade of pretending I'm not going to watch it because I have work to do, and after those three seconds lapse, I click the link. What else am I going to do? Lift weights?
I was immediately drawn to this teacher, who is exactly the kind of person I would want teaching my daughter, rather than someone who values test scores over critical thinking. Someone who has genuine passion for what she does. She is articulate, passionate, and it saddens me that she felt she had no other recourse, but to resign from a job she clearly loves. She had been stripped of her individuality and was just another teacher as far as the administration was concerned, a sentiment I know well. The title of my job and position means that I don't matter. As a noun, adjuncts are "a thing added to something else as a supplementary rather than an essential part."
Ellen Rubenstein, the Illinois teacher who posted the video above, had only intended the video to be seen by administrators at her school in the hopes it might spark at least a conversation about change, since nothing else seemed to be working. And she was being forced to transfer because she wasn't being docile. Instead, this one video – the only one she has posted on her YouTube account, went viral, and was viewed by over 400,000 people in one week. As of today, it's a little over 500,000.
She is obviously a very passionate teacher and I think it's awful that in the zeal for standardized testing as the only benchmark of skill acquisition, our education system has very little need for actual teachers with any passion. Just before she offers her video resignation, she talks about a really powerful anecdote from a Dr. Seuss book: Horton Hatches the Egg, which I've always thought of as a fun, nonsensical book, and one I'm going to put on my reading list for the summer.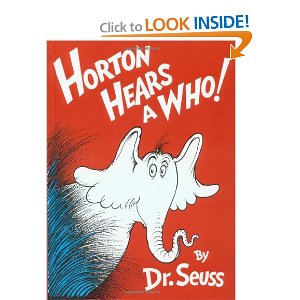 When she would read the story about an elephant who hatches an egg, and hunters who take the elephant away to a circus, her daughter (4 at the time) would cry everytime she read the following line: "Horton backs down with a heavy heart" when the hunters force Horton to leave his branch so they can put him on display in a cage. It's a particularly moving and apt metaphor, and amidst tears, Ellen finally says, "Even my 4 year old daughter knew this was a moment of defeat and loss. I am Horton. And I too am backing down with a heavy heart."
Even though I hear about the flawed system that causes wonderful teachers like Ellen to either succumb to being "Yes Men,"and remaining quiet,  or to leave their jobs, I remain optimistic because of stories like this – a school principal cuts security funding, and reinvests it into the Arts program, completely transforming everything about this elementary school in Massachusetts: http://ow.ly/lzDlT.