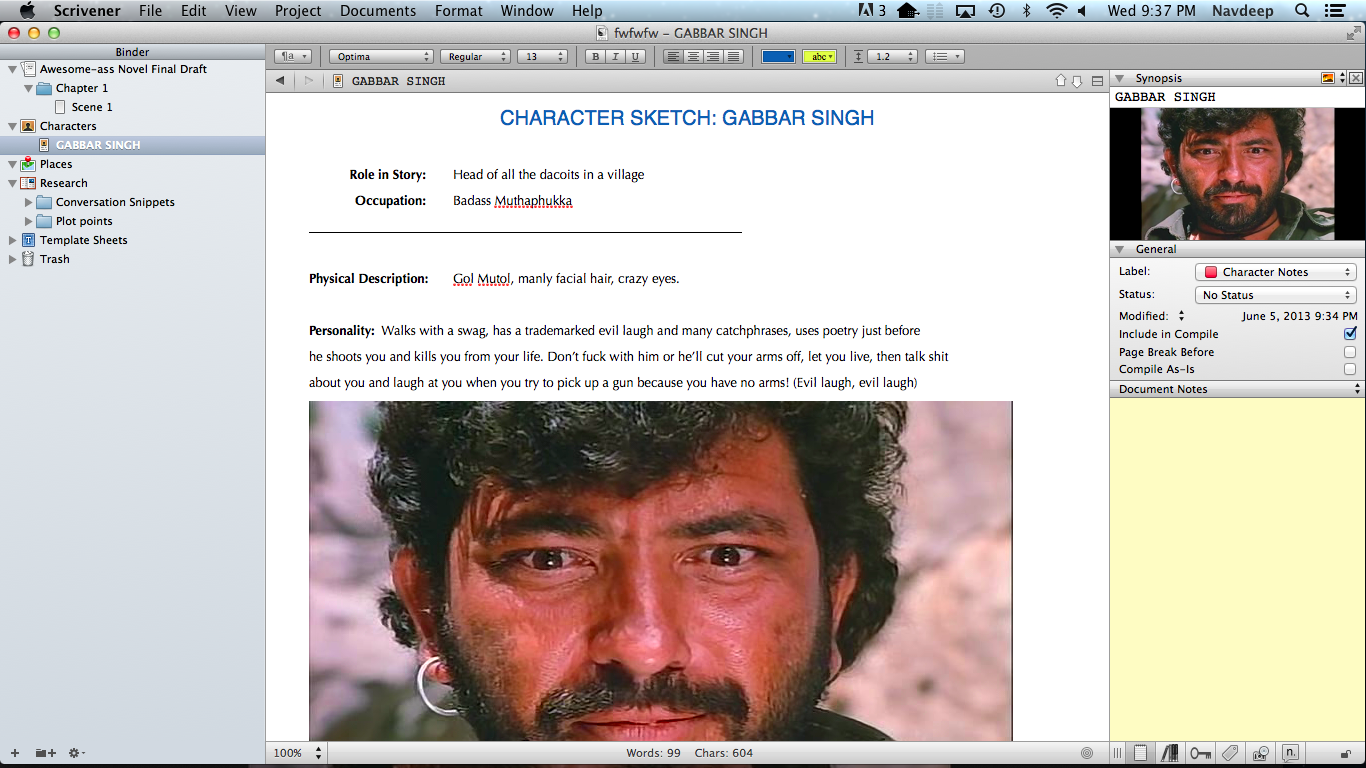 Ienvy people who can write entire novels in their notebook, or sit down at their computer and type out their novels on a simple wordprocessor. But at the same time, I feel sorry for them because they don't have my totally kickass Apps. I often feel like saying to these people sitting under the shade of a tree, writing in their Moleskin notebooks, "It doesn't have to be like this. There's an App for that!"
When I first started writing my short stories for my MFA thesis in 2006, there weren't any writing apps that I knew of, so my desktop was littered with files and folders within folders for research and rough drafts, random notes, and conversation snippets everywhere. It was hell trying to figure out whether roughdraft_recent was more recent than roughdraft_recentrecent, or roughdraft_finalonegoddamnit.
I've gone through countless Apps over the years to attempt to keep my research organized and to keep track of my writing sessions. Some have been excellent writing Apps, and others way too complicated to use, or are a major waste of time to customize and setup. Here is a list of five Apps that I use:
The Apps:
Scrivener: This is my all time favourite App, which has a great user interface and lets you have the notecard open as you type in fullscreen. It keeps everything organized and doesn't have so many options that make it overwhelming. There is a wordcount feature that requires the use of Growl on your Mac, but you have to get a hack to use it on the iPad, although they are developing an official version. It's a fantastic application. $45
Storyist: Like Scrivener, this is a wonderful App that lets you organize your writing with subfolders, and different sections, including using notecards and plot points. It has a flexible wordcount feature that lets you add goals for a session with a little ding when you've reached your goal. The main reason I switched from Scrivener is that it has an extremely efficient official iPad version that lets you create new projects, view and edit your files from your iPad or iPhone, in conjunction with dropbox. $59
Dropbox: There really isn't a valid reason not to have this installed on every desktop, laptop, and mobile device you own. Save your files and folders in dropbox and you can access them from anywhere and on any device. It keeps everything synchronized so you can work on a document on your laptop and continue working on it on a desktop or iphone elsewhere. You can use it to share folders or files with individuals or groups. It's the ultimate in writer apps and the free version comes with 2GB, plenty of space to hold all of your files and then some. Get the free version!
Producteev: This is the kick in the pants you need to properly schedule your life. You can add tasks and assign a task to someone else or to a group of people. You can create networks and projects, so it's great for writing groups as well. Use it online, across devices, and it'll send you emails if you want it to remind you of when things are due. Get it for free! An alternative is the Pomodoro App, which does not have as many bells and whistles, but it sets a timer for you to complete each task. Also free.

Mac Freedom: The problem with coffee shops and many Writers' Colonies is that they often have wifi available. It's never used for "research," and I end up getting on social media or checking my email. That lasts about 8 hours and then my day is done. This effectively acts as an Internet Killer, which is what they should call it. It disables your wifi for however long you can bear to be without it and no amount of sniveling, crying, or begging will let you come back on. Nothing will let you back online before time is up. If you think restarting the computer will solve things and let you get high on FaceBook, think again. This detox is not for the weak willed. Get it for $10.
Crashplan: This extra one is not an App and only available for your computers, but ilike dropbox, it is absolutely crucial in making sure you're covered just in case something happens to your work. . It creates full back up of your entire hard drive(s), including external drives and it lets you download any of your files from any computer. Plans start at only $2 a month.
What apps are you using?