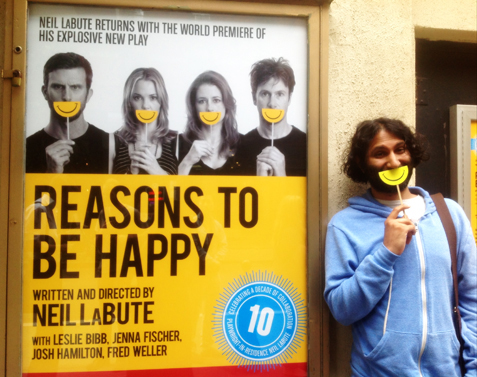 Over the weekend, Sona surprised me for our anniversary by taking me to Reasons to be Happy, a new play by one of my favorite playwrights, although you may question how much I like him at the end of this post: Neil LaBute. As a special bonus, Pam (Jenna Fischer) from the office played Stephanie the angry, racist hairdresser. That's not really her title. Or maybe it is. This is about as far as you should read if you don't want me to reveal anything more about the play.  It's still playing if you want to get tickets: http://www.mcctheater.org. Then come back and read my rant. I mean, review.
Ahem: Spoiler Alert.
Three years after a volatile break up, Greg and Stephanie run into each other in the parking lot of a Trader Joe's and old wounds resurface. They broke up because he had casually mentioned to a third party she had a "regular" face, and she flipped out, unveiling deeper issues of beauty, society, and the fickleness of their relationship. This play picks up where the other left off and deals with the aftermath.
A few scenes in, at Stephanie's insistence, Greg agrees to give their relationship another go. There are just a few hurdles. Stephanie is married, and Greg is dating her former friend, Carly, a single mom, who we find out just before the intermission, is pregnant. Like a telenovela, except with a Nirvana soundtrack. Stephanie assumes that Greg agreeing to restarting their relationship means he will actually do something and promptly ends her marriage, moves back with her parents. He, on the other hand, does nothing and continues going through the motions of being in a relationship with Carly.
But he isn't rejecting Stephanie. He wants them both, and in this world LaBute has created, Greg has the power to choose either, and in the end he magnanimously chooses to reject both of them and find himself by taking a teaching job in New York City. The ending is very hopeful and gives the impression that as unlikely as it might be, he and Stephanie have a shot as the curtains come to a draw when she is reading a NYC travel guide in the break room. The character of Kent, a seemingly minor character, acts as the foil to Greg. He is Carly's ex-husband, an alpha male, and although he can't properly express himself with much eloquence, there's a poignancy and grief to his eloquence that not many playwrights could get across very well.
As I sat through Reasons to be Happy, at first it seemed as though it was quite a departure from Neil Labute's other plays because it's not as dark in tone and every character has some genuinely hilarious lines, but mainly it ends on a happy note. Initially, I also thought the female characters were written well, given their circumstances, which is of course a situation created by LaBute. But when we left the theater and I thought more about it, I was surprised at how similar it was to Fat Pig. which is brutal in the way he assaults the comfort of the audience from the get go. Things that I glossed over and forgave the main character for was one line Carly says. "I took care of it," referring to the abortion she had and her lack of emotion, letting Greg off the hook. Stephanie has ended her marriage because she thought there was something real here, and these are all things Greg set into motion, and he doesn't seem bothered that his child has been aborted.
LaBute skillfully creates a plot that is not any different from his other plays. It is pretty dark, laden with meanness, even though it is unintentional, and there are the usual characters he tends to explore: straight, white people in dysfunctional relationships, with a straight, white male in a position of power. Like Tom from Fat Pig, Greg controls the fate of the story and the lives of the women involved. The other male character is a foil to show that under the façade of politeness and nicety, he is an asshole. Except in this play, the foil is as nice a guy as you're going to find in a Neil LaBute play.
Unlike his other plays, where the tension and meanness is unrelentless, in this play we're put at ease with unrelenting zingers that serve to wrap this story up as comedy. He successfully manipulates the audience into not feeling angst when it's all over and the tension does not feel suffocating. Through the humor, we discover a lot about the characters, and although there are some major implausibility issues with some of the scenes (to start: why the fuck would both girls agree to meet him in the break room? Why are they so desperate to be with him that they give him the power to choose one of them like this a 1970s porn? And he just magically gets a full time teaching job in NYC. Just like that. That happens). Greg is that non-committal, wishy washy, heterosexual, white male, unwilling to make a life decision that LaBute likes to use to put a lens on larger issues.
He writes dialogue extremely well, but I did find the stereotypes a little grating once I left the theater. And Greg, the substitute teacher, who is at a much higher intellectual and cultural level than anybody else in the play because he reads, is being fought over by two working class women, and Kent, also working class, can't express himself because that requires going to college, and can only do things that involve physical prowess.
Stephanie is a hairdresser, so obviously she's not very clever or educated, and LaBute uses that to channel casual racism as part of her character.
"You and your fucking words," Stephanie says. She confuses Holland Tunnel with Hellen Keller, who she knows nothing about. Established early on that she's not very bright.

Somehow they get on the topic of Rhode Island, which she has no clue about its location or anything about it. She's a hairdresser. They don't know about these things. Greg mentions Brown University being there. "Brown? The color of dogshit," she says, making her a potentially racist hairdresser.

When he refuses to make a decision, she calls him, "Gandhi or that black one." Of course he's the only one who knows the answer.
"oh fuck em, theyre Asian. They can wait."
Carly, a single mom, is outwardly strong, and while she doesn't give Greg power over her decision to have an abortion, she is ultimately a vulnerable girl with the same track record in relationships as Stephanie. So it makes sense for her to want a deadbeat, lying, substitute teacher in her life.
Carly feels rejected when Greg rejects her sexual advances. Shows her vulnerability. "I feel safe."
"It's not 1845 anymore. I have options."
"If there is no us, there is only me."
"I feel like I could love you"
"I dont need a dog. I need a man."
Kent, makes equally poor choices in relationships and realizes how badly he fucked up the best relationship he had with Carly, but he's doing alright in the sexy lady department, even if he isn't happy. He has an incredibly beautiful girlfriend, or so he claims, but laments to Greg that men are always checking her out. Because she's so hot. On the bright side, he talks about his major sexual conquests he's been her first for, because these things are important.
Picks up book on table. "White fang. Sounds gay."
"She's really cute, Jennifer," Greg says about Kent's daughter.
"Dont be gay"
"What do you mean?"
"Everyone says she looks like me"
"You're so diplomatic. You should work in an embassy. Is that the right word?"
"I just think reading is kinda useless. Even if youre doing something stupid, at least youre doing something.
"Reading is selfish. Instead of reading, you could be out doing something useful. Like building a church."
"Has reading made you any happier?"
As much as it seems like I didn't enjoy the play, the contrary is true. I think he's a fantastic dramatist and writes dialogue better than many writers I've read. For a longer rant on the issue, read my review of Fat Pig.